Publications
Duodji Reader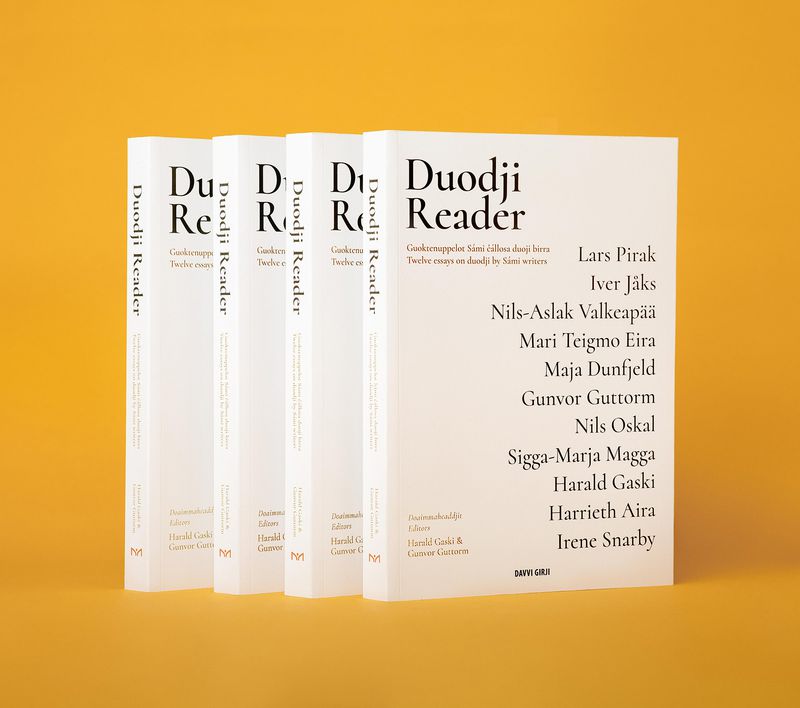 Guoktenuppelot čállosa duoji birra sámi duojáriid ja dutkiid bokte maŋimuš 60 jagis

A selection of twelve essays on duodji by Sámi duojárat and writers from the past 60 years
I Norge kan Duodji Reader bestilles og kjøpes hos alle bokhandlere, i tillegg til i Davvi Girjis nettbutikk.
Doaimmaheaddjit/Editors
Gunvor Guttorm ja/and Harald Gaski

Prošeaktadoaimmaheaddji/Project manager
Tonje Kjellevold (Norwegian Crafts)
Čállit/Authors
Harrieth Aira ∣ Maja Dunfjeld ∣ Mari Teigmo Eira ∣ Harald Gaski ∣ Gunvor Guttorm ∣ Iver Jåks ∣ Sigga-Marja Magga ∣ Nils Oskal ∣ Lars Pirak ∣ Irene Snarby ∣ Nils-Aslak Valkeapää

Jorgaleaddjit/Translators
Siri K. Gaski ∣ Britt Rajala ∣ Harald Gaski ∣ Magne Ove Varsi ∣ Lars Nordström ∣ Kari Utsi ∣ Lars Th. Kintel ∣ Ellen Bull Jonassen ∣ Kaija Anttonen ∣ John Prusynski

Duojárat
Jon Ole Andersen ∣ Ellen Kitok Andersson ∣ Per Thomas Aira Balto ∣ Laila Mari Blind Brandsfjell ∣ Maja Dunfjeld ∣ Biret Kristine Andersen Guvsám ∣ Lisa Lyngman Gælok ∣ InKa Duodji ∣ Perisak Juuso ∣ Iver Jåks ∣ Laila Susanna Kuhmunen ∣ Tilde Risten Kuoljok ∣ Nils Johan Labba ∣ Solveig Labba ∣ Sami Laiti ∣ Birit Rauna Länsman ∣ Randi Marainen ∣ Johanna Njaita ∣ Lars Pirak ∣ Fredrik Prost ∣ Inga-Wiktoria Påve ∣ Johan Rist ∣ Katarina Pirak Sikku ∣ Katarina Spik Skum ∣ Anne Silja Turi ∣ Johan Turi ∣ Anniina Turunen ∣ Jon T Utsi ∣ Elle Valkeapää ∣ Nils-Aslak Valkeapää ∣ Heini Wesslin ∣ Sandra Márjá West


In this short film professor and co-editor of Duodji Reader Gunvor Guttorm gives an introduction of the publication, and contributing writer and professor Nils Oskal talks about his text. The film also features duojárat Berit Kristine Andersen Guvsám and Laila Susanne Kuhmunen, and shows still images of duodji by Per Isak Juuso, Inka Duodji, Berit Kristine Andersen Guvsám, Nils Johan Labba and Johan Rist. The film is produced by Forest People and Norwegian Crafts, and has received support from Nordic Culture Point.

(Scroll down for English)
Máilmmi álgoálbmogiid duddjonvierut leat oažžugoahtán eanet fuomášumi ja dohkkeheami maŋimuš moaddelot jagi. Lea maiddái fáddá mas leamaš ságastallan akademalaččat ja dáiddaoahpahusas. Gozihan dihte beroštumi álgoálbmogiid dáidda- ja duodjedoaimmaide, mii fállat dán girjji sámi duoji birra. Duodji ovddasta Davvi Eurohpá álgoálbmoga dáiddalaš ovdanbuktinvuogi. Duodji ii čujut dušše loahppabohtosii, ieš duodjebuktagii, muhto dat duođašta olles doaimma – ávnnasteames gárvves duodjái. Duodji čájeha holisttalaš buvttadanrieggá, mo luondu ja olbmot barget ovttas fuomášeamis, govvahallamis ja duddjomis biergasiid mat leat hámálaččat ja vuohkkasat geavahit.
'Duodji Reader: Guoktenuppelot čállosa duoji birra sámi duojáriid ja dutkiid bokte maŋimuš 60 jagis' lea Sámi allaskuvla ja Norwegian Crafts ráhkadan. Professorat Gunvor Guttorm ja Harald Gaski leaba doaimmahan dan, ja dasa leat searvan oktanuppelohkái sámi dutki, duojára ja čálli davvi-, julev- ja lullisámi guovlluin. Čállosat leat julev-, lulli- ja davvisámegillii eŋgelasgiela lassin. Girjjjis leat maiddái ollu govat dujiin maid badjel golbmalogi dálááiggi duojára leat duddjon.
Girji heive bures dáidda- ja duodjeoahpahussii, ja maiddái čájálmassan sámi duoji jurddašeamis ja dahkamis, mas leat čiekŋalis ruohttasat davviguovllu álgoálbmot dáiddahápmin.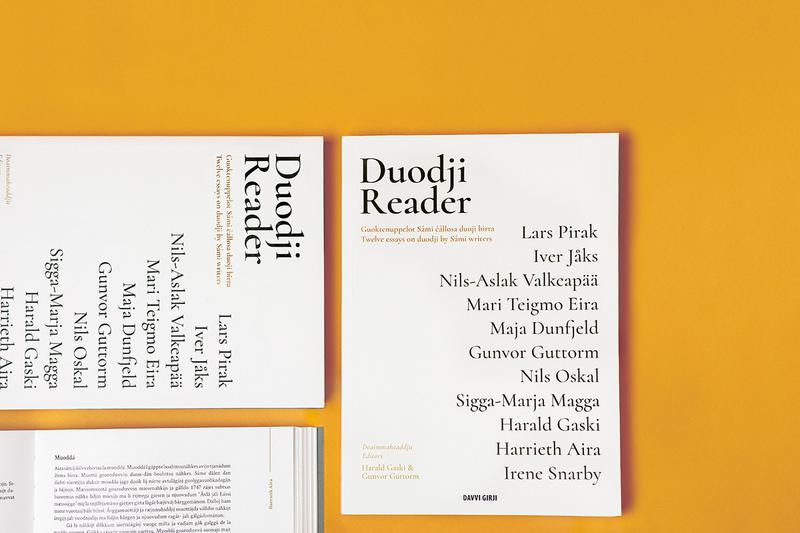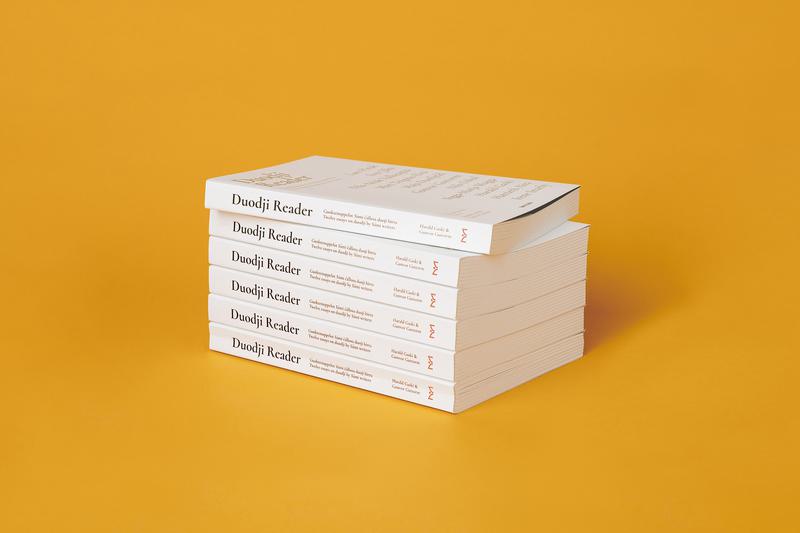 The craft practices of Indigenous peoples from all over the world have been getting increased attention and appreciation globally over the last few decades. It has also become a topic that has occupied its fair share of discourse in academia and in art education. As a contribution to this interest in Indigenous art and crafts practices, we offer this book on Sámi duodji. Duodji is the artistic crafts form of the Indigenous people of the European Arctic. Duodji refers not only to the end result, the finished object itself, but also describes the whole process – from the incipient idea to the final product. Duodji demonstrates a holistic circle of creation, how nature and humans collaborate in recognising, visualising, and shaping items that serve the need for both practical use and aesthetic form.
'Duodji Reader: A Selection of Twelve Essays on Duodji by Sámi Duojárat and Writers from the past 60 Years', is produced by Sámi Allaskuvla and Norwegian Crafts. The publication is edited by the professors Gunvor Guttorm and Harald Gaski, and contains essays from eleven prominent Sámi scholars, duojárat, and writers from North, South, and Lule Sámi areas. The essays are presented in Lule, South or North Sámi as well as in English. The publication also contains a wide-ranging selection of photographs of duodji by more than thirty contemporary duojárat.
The book is well-suited both as background and text material for education in crafts, as well as a resource for the theory and practice of Sámi duodji as an Indigenous art form with long roots in the Arctic North.
Hábmen/Design: Árvu
Almmuheaddj/Publisher: Davvi Girji
Dorjon leat/Supported by: Kulturrådet, Norske Kunsthåndverkere (The Norwegian Association for Arts and Crafts)