Notes
Opening night of Tone Vigeland's Jewelry - Object - Sculpture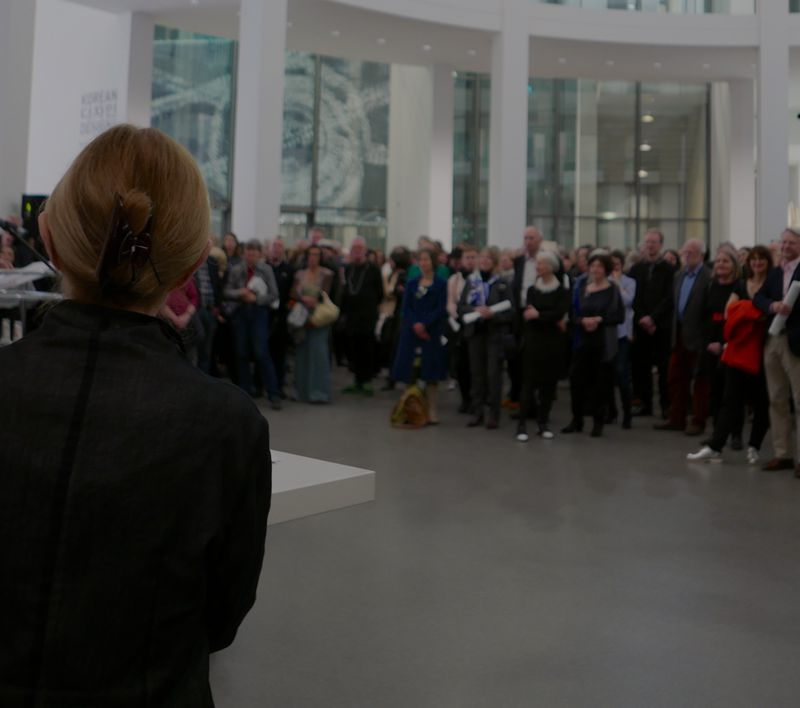 Tone Vigeland's solo exhibition opened at the Pinakothek der Moderne in Munich Friday 10th of March
Approximately 1600 people attended the opening of Jewelry – Object – Sculpture, Tone Vigeland's solo exhibition at the Pinakothek der Moderne in Munich Friday 10th of March.
The exhibition, curated by Dr. Petra Hölscher at Die Neue Sammlung, includes 130 works by Vigeland, spanning from the late 1950s up to today and ranging from modernist silver jewellery to wallhung steel sculptures.
The opening was held in the Pinkothek's Rotunda, which was filled to the brim due to the record attendance of 1600 guests. Both the director of Die Neue Sammlung, Angelika Nollert, and curator Dr. Hölscher gave speeches at the opening, as did Norway's Ambassador to Germany, Elisabeth Walaas and the grand dame herself – Tone Vigeland.
Tone Vigeland, approaching 80 years of age, held a short but enthusiastic speech thanking both the museum and the curator for their cooperation and attention to detail, commending Dr. Hölscher especially for how the exhibition design and display casings complimented her jewellery.
Tone Vigeland is the first Scandinavian jewellery artist to be given the honour of exhibiting at the Pinakothek der Moderne during what is known as 'the jewellery week' in Munich. Thomas Gentille, american jewellery artist and Vigeland's personal friend had the honour last year and was present at Vigeland's opening. Other notable guests included jewellery artists Otto Künzli, Peter Skubic, Rudt Peters and Sigurd Bronger. Vigeland's american gallerist from the 90s, and avid jewellery collector, Helen Drutt attended as well, as did art historians and writers Liesbeth den Besten and Jorunn Veiteberg, and the director of Haus der Kunst, Okwui Enwezor. Norwegian Crafts, who's been cooperating with the museum on the exhibition attended with all staff members. Representatives from the Norwegian Foreign Ministry, and the Norwegian embassy and consulates, attended as well.
«We were proud to support Die Neue Sammlung and Dr. Petra Hölscher in the wonderful work that they do for the art jewellery field. Tone Vigeland is a true pioneer of art jewellery, and a big source of inspiration for the younger generation of jewellery artists.»

Hege Henriksen, director Norwegian Crafts
The exhibition has been produced and initiated by Die Neue Sammlung in close collaboration with the artist. With kind support of the Norwegian Ministry of Foreign Affairs in Oslo, the Royal Norwegian Embassy in Berlin, the Royal Norwegian Consulate in Munich and the Danner-Stiftung, Munich, and in cooperation with Norwegian Crafts, and under the patronage of Her Royal Majesty Queen Sonja of Norway. The exhibition is accompanied by a publication.
Jewelry – Object - Sculpture is on at the Pinakothek der Moderne until 11 June 2017. It will travel to the Nordenfjeldske Kunstindustrimuseum in Trondheim, Norway in January 2018. More information on the exhibition here.