Seminars
Making, Matriarchs and Mapping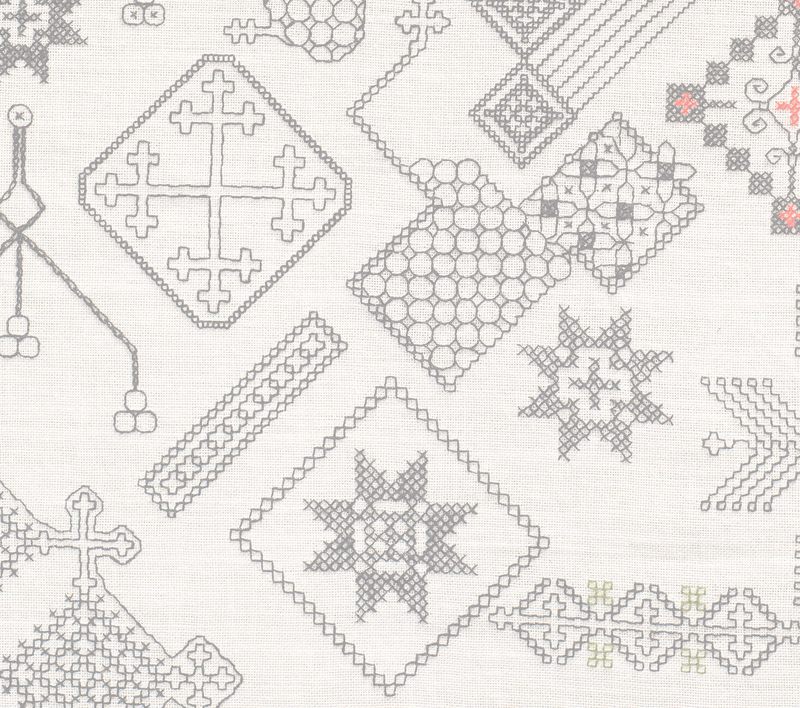 Karen Lidal and Monika Mørck in conversation with Marcia Havey Isaksson for the Annual Craft Exhibition 2021 at Sørlandets Kunstmuseum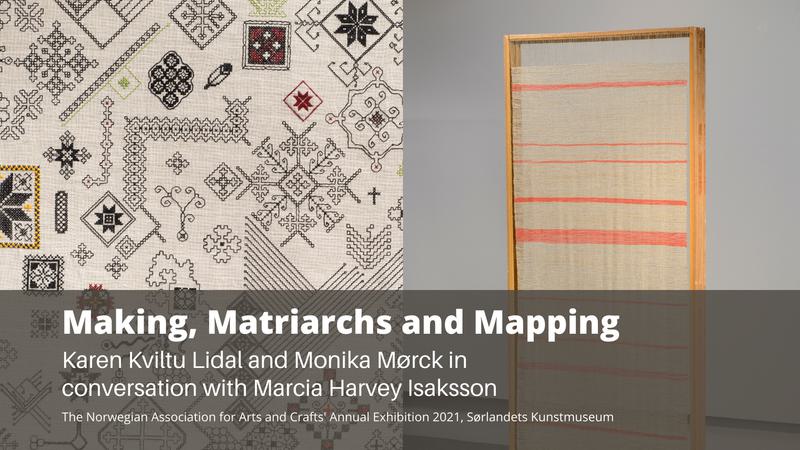 Sunday 28 November was the last day of the Annual Exhibition (Årsutstillingen) 2021, and on that occasion, Norwegian Crafts and Sørlandets Kunstmuseum invited to a conversation between the artists Karen Lidal (NO), Monika Mørck (NO) moderated by artist/curator and director of the Stockholm-based gallery Fiberspace, Marcia Harvey Isaksson (SE).
Starting from the artists' own practice, the conversation revolved around the panel's interest in craft practices, knowledge passed on from generation to generation and from place to place, making from a female perspective, space, and body.
Karen Kviltu Lidal maps out, traces, documents, and displaces architecture and spaces, through drawing, textile and perfomative work, often using her own body as scale. Lidal investigates the built structures around us; how the city and architecture relate to the body, and its connections to the social, gender and power. Her work 'Closed Open (Striated)' is included in the Annual Craft Exhibition 2021. Based on her own experiences, Monika Mørck examines issues related to female identity and sexuality. With an interest in craft-based knowledge, she makes use of traditional craft techniques and simplified hobby methods, in an interplay between everyday life and artistic exploration. Mørck's work 'Svartsaum' is part of the Annual Craft Exhibition 2021.

Sunday 28 November 2021, 2 PM (CET)
Sørlandets Kunstmuseum
See the video recording of the event on Facebook

Watch a virtual tour of the Annual Craft Exhibition 2021 in English

Karen Kviltu Lidal (b. 1979) lives and works in Oslo and Berlin. She completed her MA at Oslo National Academy of the Arts (KHiO) in 2008 and has since exhibited widely in Norway and internationally. Solo presentations include Bauen Wohnen Denken in Tegnerforbundet, The Body and the Map in Moss Art Gallery and Soft City Pieces in Window Box/Galleri Pushwagner. Group shows among others in Sørlandet Art Museum, Alfa Gallery Miami, Kunstnernes hus, Akershus kunstsenter, Soft and The National Museum in Oslo. Lidal's work is included in the collection of the National Museum of Decorative Arts and Design, Trondheim and KODE, Bergen.


Monika Mørck (b. 1984) is a graduate of the Accademia Italiana, Florence (I) and Oslo National Academy of the Arts (KHiO) where she took her master's degree in 2013. After many years in Oslo, she has now moved back to her hometown Trondheim. Mørck has exhibited extemsively with recent exhibitions at SOFT Gallery and Gallery Format, Oslo, as well as Hordaland Kunstsenter, Bergen (with Maia Birkeland). Mørck was awarded the Annual Exhibition debut price for her work, Svartsaum, which was aquired by the City of Oslo Art Collection.
Marcia Harvey Isaksson (b. 1975) originally from Zimbabwe, is based in Stockholm. She graduated from Beckmans College of Design in 2008 and has since worked as an exhibition designer and interior architect. She established and has been running Fiberspace; an arena for textile art, craft and design; since 2015. In her artistic practice, Harvey Isaksson uses weaving and other textile methods to investigate cultural and personal heritage, the transfer of knowledge over generations, and how narratives of the past effect the present and the future. Her work is included in the Swedish Museum of Ethnography's African textiles collection.