Residency
Adornment and Gender: Engaging Conversation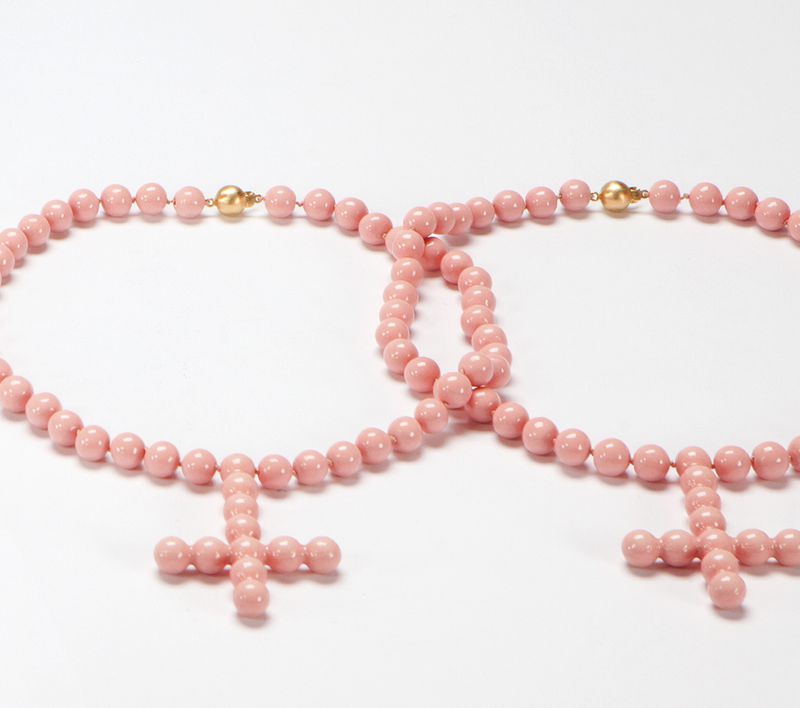 Adornment and Gender: Engaging Conversation examines the role that jewellery, fashion, tattoos and other forms of body adornment play in individual expressions of gender.
PRAKSIS's 9th residency, Adornment and Gender: Engaging Conversation developed
with artist, writer and curator Benjamin Lignel, in collaboration with
Norwegian Crafts will focus on (I) sharing existing research, (II)
discussing research methodologies within this field, (III) considering
appropriate methods for disseminating sensitive material and (IV)
explore the ethics that surround gathering and sharing this often
personal information.

Benjamin Lignel together with PRAKSIS and Norwegian Crafts has selected a diverse group of ten talented participants from arts, crafts, jewellery, fashion and research backgrounds. These include: Tone Bjerkaas (NO), Auli Laitinen (SE), Matt Lambert (US), Nanna Melland (NO), Darja Popolitova (EE), Aleyda Rocha (MX), Mallika Roy (US), Heidi Sand (NO), Shweta Sharma (IN) and Ahmed Umar (NO).
Symposium: Adornment and Gender // Engaging Conversation
10.00 - 16.00 25 May 2018
How is adornment used to express or subvert gender identities? What ethical issues need sensitive handling in collecting and sharing personal stories? Which emerging methods of dissemination most effectively communicate such complex research?
Through the residency, Adornment and Gender: Engaging Conversation, eleven local and international residents - coming from the fields of fashion, contemporary jewellery, anthropology, performance, photography and data gathering - are working together on the hypothesis that adornment is a means to endorse and challenge the gender status quo. They are interested by the fact that this ongoing negotiation finds complex, simultaneous and incompatible expressions in craft and life. Having pooled their current research and questions, the group are keen to spend a day with you discussing the methods available today to make sensitive, personal testimonies public.
This one-day symposium looks at the role of jewellery, fashion, bod-mods and other body adornment in the expression of gendered identities with a focus on 3 main areas: (I) sharing and discussing existing research, (II) considering appropriate methods of dissemination of sensitive, personal material and (III) exploring the ethics that surround gathering and sharing sensitive or personal information.
The lineup for the day includes:
Artist, psychologist, and writer Mah Rana (UK) will present her project, Meanings and Attachments (2002 - ongoing), a worldwide series of public-participation events archiving 'jewellery' stories through text, audio, portrait photography and film. Rana's practice centres around human relationships, narratives, material and experiential processes.
Loraine Furter (CH) and Sarah Magnan (FR) often work together in their practices as designers and researchers. The two will talk about ways to rethink the articulation between online and in-print, and questions of online usership.
A panel will debate the ethics of making / sharing / transmitting conversations with at-risk or marginalized communities. When is it OK to have restricted access conversations? How do issues of exploitation and voyeurism conflict with ideals of social participation?
Residents from Adornment and Gender: Engaging Conversation will identify key questions that have arisen from their collective activity, continuing and opening the discussion with the audience.
About Benjamin Lignel
Benjamin Lignel is an artist, writer and curator. He was the editor of Art Jewelry Forum between January 2013 and December 2016, and edited three books under AJF's imprint, including the first book-length study of jewelry exhibition-making. His most recent curatorial project was Medusa, Jewellery and Taboos (2017) at the Musée d'Art Moderne de la Ville de Paris, in collaboration with Anne Dressen and Michèle Heuzé. Lignel has lectured extensively on craft, and likes to organize (or co-organize) symposia on jewellery, of which The Public and Private Lives of Jewellery (Zimmerhof, 2011), Forgetting Jewellery (Paris, 2017) and The Fuzzy, the Fake and the Double - Trouble in Ornament (Paris, 2017). He is a guest teacher at the Akademie der Bildende Künste (Nürnberg), Alchimia (Florence), Warren Wilson College (Swannanoa) and a mentor in the Handshake 4 pedagogical program (New Zealand). Lignel regularly contributes essays to magazines, monographs and museum publications, and is on the editorial advisory board of Norwegian Crafts and of the Journal of Jewellery Research.
Benjamin Lignel is currently working with co-editor Namita Wiggers towards a series of publications on adornment and gender. He lives in Montreuil (France).
About PRAKSIS
Creating mixed, temporary communities for living, working, conversation and learning around themes of mutual interest, PRAKSIS's residencies are research-intensive, responsive, high-energy experiences.
From 2016 PRAKSIS has been hosting a series of residencies exploring a variety of formats for the development of creative practice through discussion and shared experience. Each thematic residency is open to Oslo based, national and international applicants through open call with applications welcomed from anyone with relevant experience and interest. PRAKSIS´ key strategy focuses on supportive encounters between practitioners and thinkers from different backgrounds and differing career stages, both within the core residency group and Oslo's broader community.
For more info please follow link
PRAKSIS and Norwegian Crafts would like to thank OCA (Office for Contemporary Art Norway) for helping make it possible to host the international residents.