Seminars
Båassjoeraejken Tjïrr
Workshops and conversations on Indigenous languages, aesthetic practices and landscapes Melahuset, 3 December 2019, Oslo
Contributors:
Taqralik Partridge ︱ Unni Fjellheim ︱ Tomas Colbengtson ︱ Sissel M. Bergh ︱
Tatjana Kolpus ︱ Inga Anna Helene Fossli
Moderators: Liisa-Rávná Finbog ︱ Raisa Porsanger
To mark the end of the United Nations' Year of Indigenous Languages, the Office for Contemporary Art Norway and Norwegian Crafts hosted a three-part event dealing with Indigenous languages and creative practices related to Sámi aesthetic expressions such as duodji and dáidda.
Over recent years, OCA's programming has maintained a commitment to language, highlighting the special attention to words, speech and writing that many artists and thinkers implement in their work today. As our last event of the year, we continue this commitment with a programme on Indigenous language and in particular South Sámi, one of the languages most under pressure in the world.
In Indigenous societies, where written materials have been the exception rather than the rule, it is the spoken language that serves as literature – linked not only to the people, but also to the ancestral landscapes in which they were created, and to the current environments in which they continue to exist today.

'Studies show that Sámi aesthetic practices such as duodji are vital in upholding and ensuring the continuing survival of Sámi languages, cultures and connection to landscapes. Children learn to practice duodji by first seeing and then reproducing the practice of their elders, who through the spoken word relay not only their practice, but also their knowledge, traditions, beliefs and histories that have been generated by that practice through the generations,' says Liisa-Rávná Finbog.
A starting point for our assembly is the term båassjoeraejken tjïrr, which reflects an act of transformation. The term refers to the physical act of entering (tjïrr) through a small door (båassjoeraejken), traditionally found at the back of a Sámi turf-hut, or goahti. Though the båassjoeraejken was for everyday use, it also served as a spiritual gateway in rituals of healing and cleansing:
'The practice of art and/or duodji is one medium through which Indigenous people may reclaim the voice of their ancestors, and their connection to landscape, initiating both the healing and cleansing of the historical and ongoing trauma caused by colonisation and subjugation', says Finbog, who has invited dáiddars (artists) and duojárs (practitioners of duodji) to highlight the many ways in which they re-enter their ancestral languages through their practice.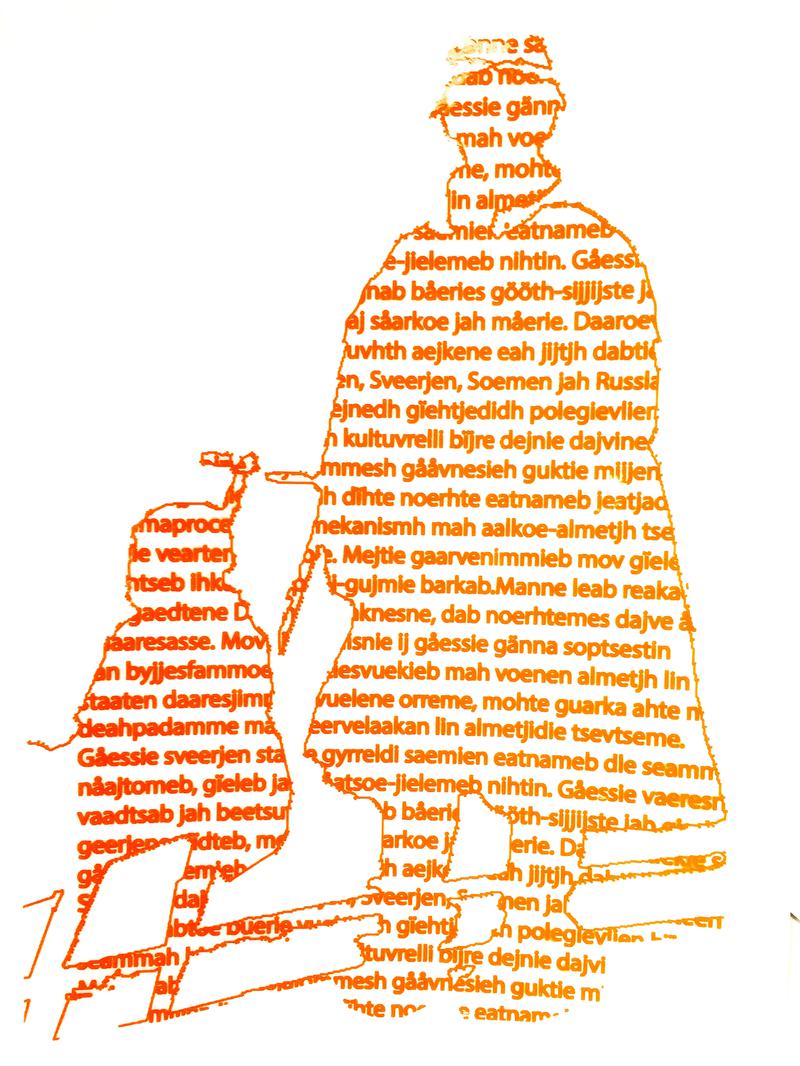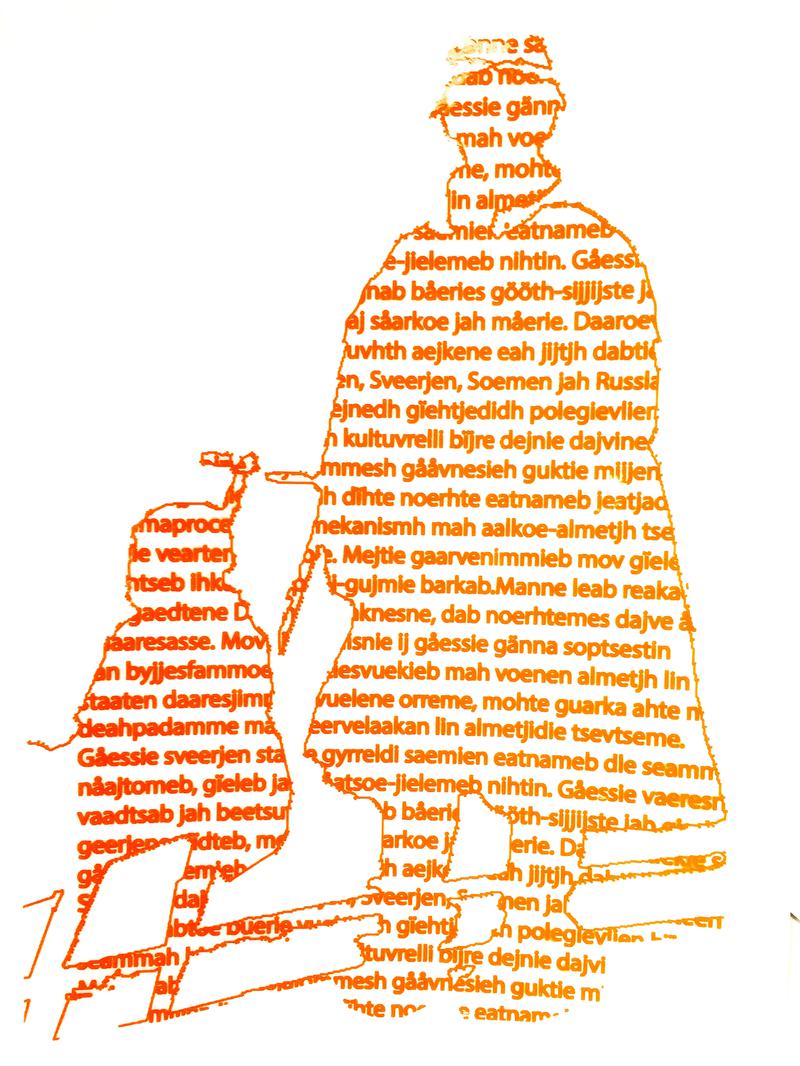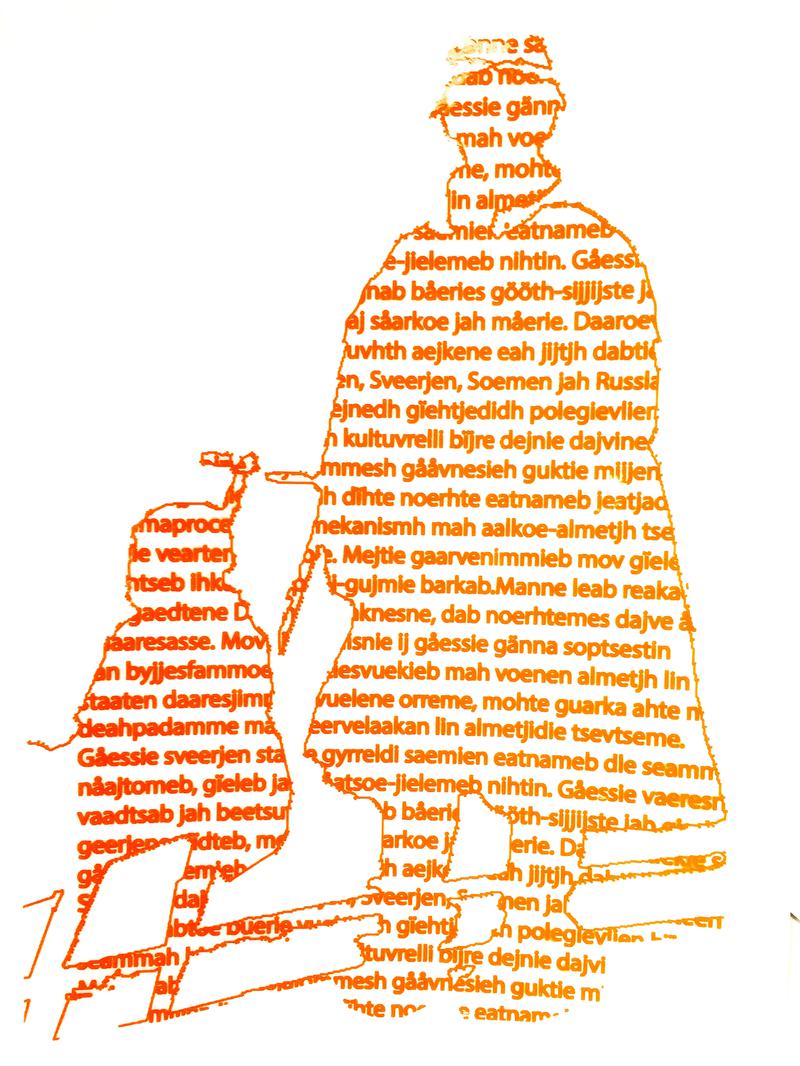 Liisa-Rávná Finbog is a Sámi archaeologist and museologist and is currently pursuing a PhD in museology titled 'Negotiating Self – the crafting of Sámi identity within a museological framework'. She is also an accomplished practitioner of duodji, and teaches both courses and workshops in traditional Sámi arts.
Raisa Porsanger is from Leavdnja/Lakselv and Kárášjohka/Karasjok, and lives and works as an artist and a cultural worker in Oslo. She curated an iteration of OCA's exhibition 'Let the River Flow. The Sovereign Will and the Making of a New Worldliness' (whose initial version premiered at OCA in Oslo in 2018), in the Sámi Dáiddaguovddáš in Kárášjohka/Karasjok in 2019.
Sissel M. Bergh is dáiddar from South-Western Sápmi, whose work centres on language and landscape, collecting traces of Sámi culture on the coast of Møre and Trøndelag, problematising and questioning the (in)visibility of the Sámi presence in the official narratives of these areas.
Taqralik Partridge is a textile artist, writer, spoken-word poet and curator originally from Kuujjuaq, Nunavik, Quebec, Canada. Some of her textile work is included in 'Among All These Tundras', a touring exhibition of works by 12 circumpolar artists. Taqralik will be a featured artist at the Biennale of Sydney in 2020. She lives in Guovdageaidnu/Kautokeino with her family.
Tomas Colbengtson is a South Sámi dáiddar from the Swedish side, whose work questions Sámi identities, Sámi heritage and how colonisation has changed the Indigenous people and landscape.