Seminars
Launch: Documents on Contemporary Crafts, nos. 1-5, Box Set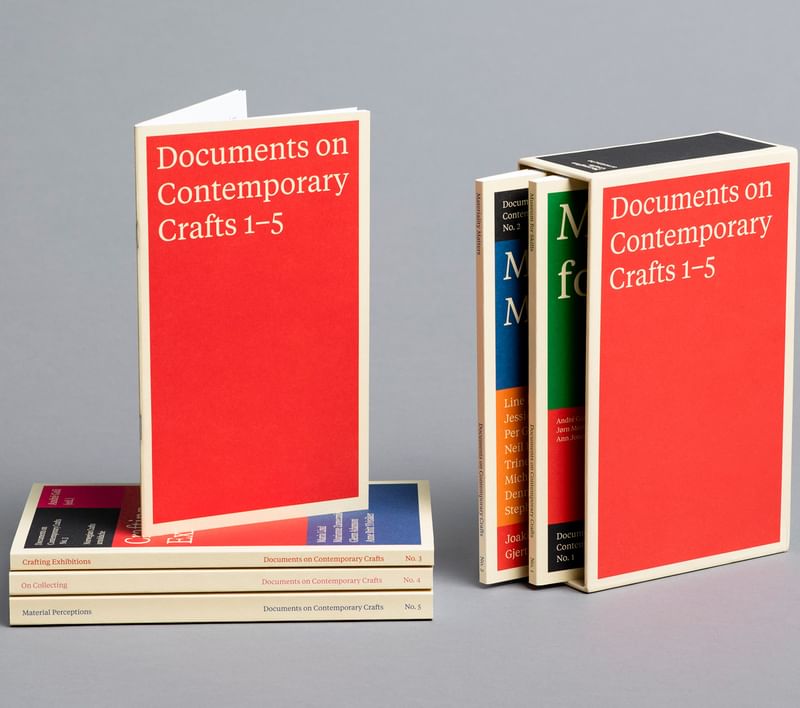 Launch of box set
Museum Angewandte Kunst, Frankfurt
Thursday 17 October, 2-4 pm
Buy the box set here

Introduction: Hege Henriksen
Panel: Liesbeth den Besten (NL), Jorunn Veiteberg (NO), Marianne Zamecznik (NO)
Moderator: Tanya Harrod (UK)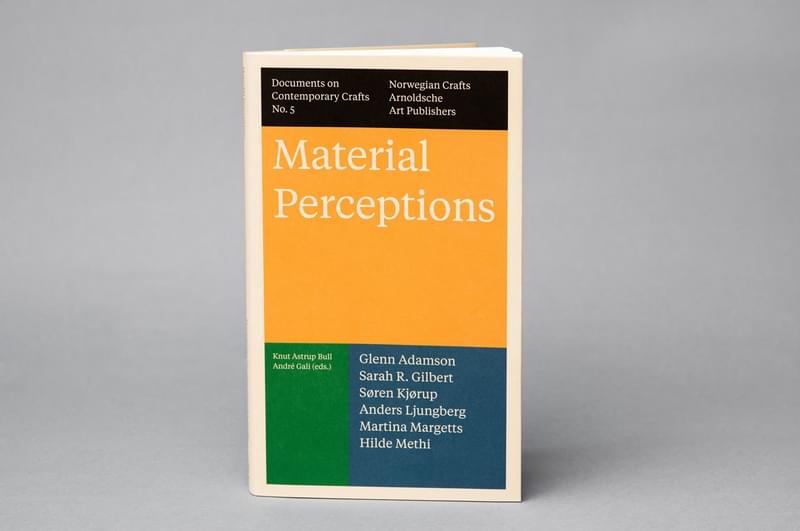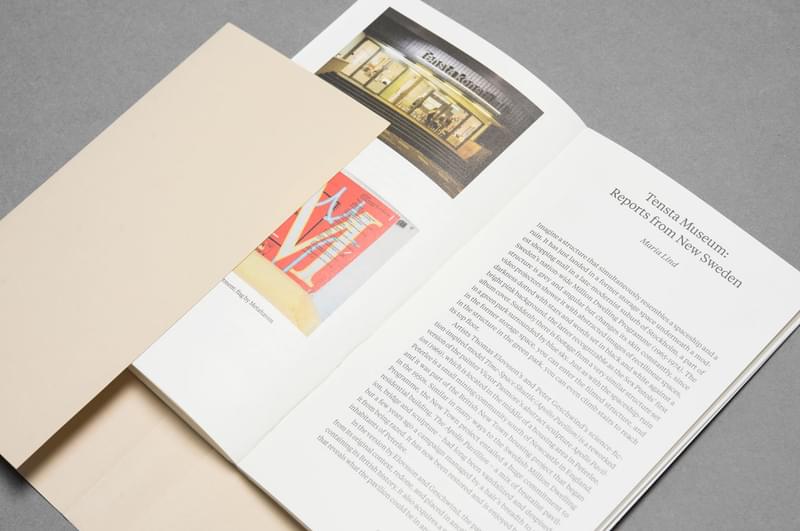 Documents on Contemporary Crafts is a book series published by Norwegian Crafts that offers critical reflection on contemporary crafts, seeking to stimulate critical discourse within the field of crafts.
In October 2019, Norwegian Crafts and arnoldsche Art Publishers proudly present a box set of the series Documents on Contemporary Crafts nos. 1-5. These first five volumes of Documents on Contemporary Crafts, produced between 2013 and 2018, have taken a closer look at some of the core phenomena that act as building blocks for the contemporary craft world today:

- education / learning / skills (Museum for Skills)
- materiality / making / technology (Materiality Matters)
- curating / exhibition making (Crafting Exhibitions)
- private, personal and museal collecting (On Collecting)
- aesthetics / philosophy / epistemology (Material Perceptions)
To celebrate the launch of the box set, Norwegian Crafts has invited three experts within the contemporary craft field to take part in a panel conversation, moderated by Tanya Harrod. Taking the books as starting point, the conversation will focus on skills, exhibition making, collecting, and on how we perceive and relate to craft.
The books and box have been designed by Yokoland, a prize-winning design company in Oslo, Norway.
The box will be launched at Museum Angewandte Kunst during the Frankfurt Book Fair in connection with Norway being 2019's Guest of Honour.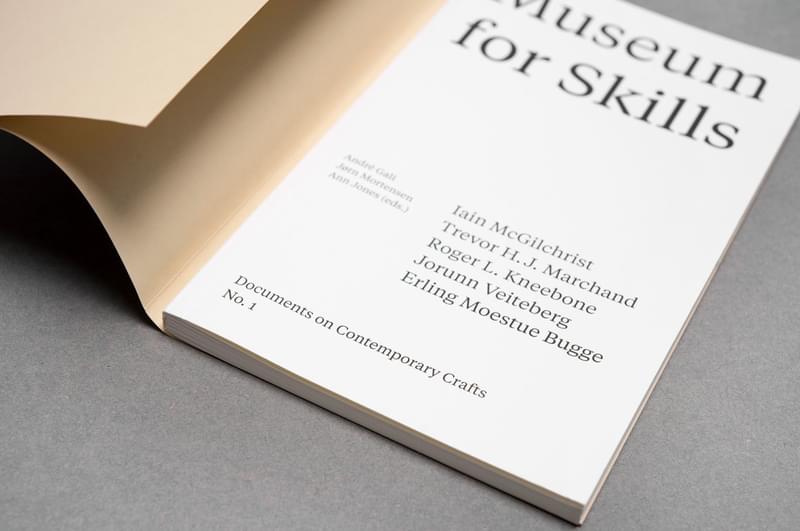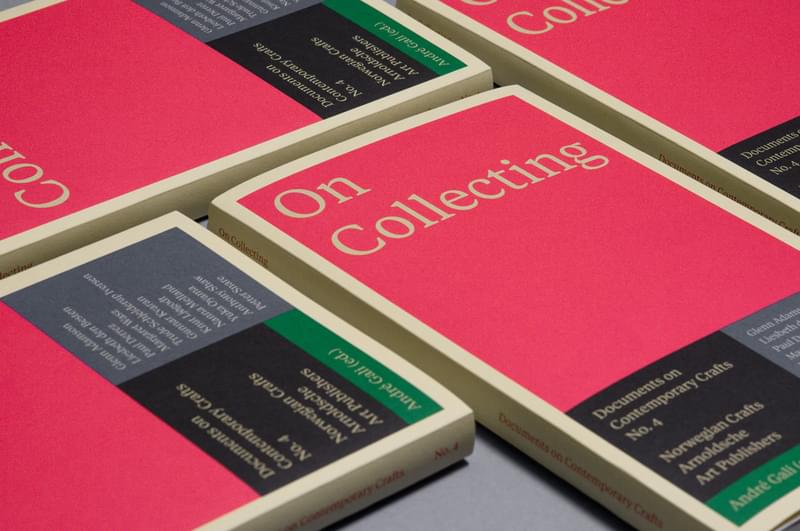 Liesbeth den Besten is an independent art historian who is working internationally as a writer, curator, advisor, jury member, exhibition maker, teacher and lecturer in the field of crafts and design, especially contemporary jewellery. She has curated exhibitions for different museums in the Netherlands and abroad. She is chair of the Françoise van den Bosch Foundation, and member of the AJF board. She teaches jewellery history at Sint Lucas Academy in Antwerp.
Jorunn Veiteberg holds a PhD in Art History from the University of Bergen, lives and works in Bergen, Norway, and Copenhagen, Denmark. Associate professor at Bergen Academy of Art and Design since 2002 and HDK School of Design and Crafts at the University of Gothenburg since 2012. Publications include Craft in Transition (Bergen 2005); Sigurd Bronger: Laboratorium Mechanum (Stuttgart 2011); Thing Tang Trash: Upcycling in Contemporary Ceramics (Bergen 2011); and Konrad Mehus: Form Follows Fiction. Jewellery and Objects (Stuttgart 2012).
Tanya Harrod is an independent design historian, living in London, who writes widely on craft, art, and design. Her major study, The Crafts in Britain in the Twentieth Century, was published in 1999. The Last Sane Man, her biography of the potter Michael Cardew, was published in 2012; for this book she was awarded the James Tait Black Prize for biography. She is co-editor of the The Journal of Modern Craft.
Marianne Zamecznik (b. Norway) is a curator and exhibition designer based in Berlin and Oslo. She is the director of the arts festival Oslo Open since 2015. Following her formal arts education she co-founded the itinerant and experimental curatorial platform Simon Says in 2002 together with Stina Högkvist. Concurrent with Simon Says, Zamecznik worked as a producer at the Swedish Filmform. Zamecznik worked as Managing and Program Director at 0047, an independent project space focused on art and architecture. Curatorial projects include To Bee or Not to Be together with Raimar Stange at Gallery F15 in Moss in 2016; Magic Language /// Game of Whispers at Revelations fair in Paris in 2015, using an unconventional curatorial strategy named after the children game "Chinese Whispers" that let the objects themselves be the curatorial authors; The Running Room together with Anders Smebye at Space for Art and Industry in New York City in July 2012.